VDW 3
It's around this time every year (Spring Break) that I lead a small photography workshop for college students attending the College Media Advisers (CMA) national convention at the Roosevelt Hotel at 45th and Madison. It's called the Visual Diaries Workshop and this was the third year in a row I've done it. The basic idea of the workshop is simple: a full-day, hands-on shooting and editing workshop open to anybody who's interested.
This past Friday at 9 a.m. I met with the photographers, there were 17 this year (at the first and second workshops we only had six and eight shooters, respectively). I showed them the slide shows from the previous two workshops to give them a general idea of what to expect. We talked about photographing in New York, where all the good spots are, what to avoid, the best subway trains to take, the logistics of meeting back up for the critique, etc. But mainly, the idea is to just let them loose and see what they came back with. Once they got back to the hotel I had them edit their pictures down to a group of 20 or so selects. Then I had them burn those pictures onto a CD. I put the CD into my laptop, which is connected to an LCD projector, and I went through and critiqued their edits as everybody else was able to watch along on the projection screen. Tomorrow I am presenting a slideshow of their work to the entire CMA convention as part of the closing awards ceremony. I've already posted it on
YouTube
so that people who can't attend the slide show tomorrow will be able to see it. Unfortunately, when exporting out of iPhoto into Quicktime to post on YouTube, it gets quite dark, and Tom Petty's "It's Good to be King" doesn't time out as well as it does in my live presentation. But you get the idea. Please take a look.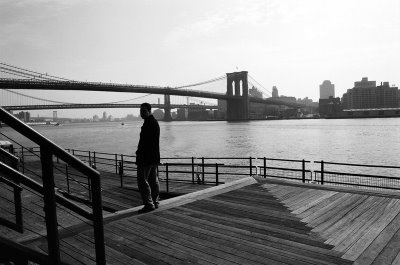 Each year is a little different. This year I actually had one shooter show up with a Canon film SLR loaded with C-41 black and white film. We discussed where she could get it processed and put onto a CD. This shot of a man near the Brooklyn Bridge is hers. Two other photographers weren't photographers at all, one was a reporter and the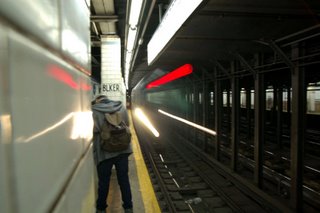 other was a managing editor of her school paper. Some of the kids were inclined to attack the city solo while others went out in pairs. So it's fun to have a nice mix of timid beginners along with the more gung-ho types. Geographically, the group was from all over the country––from North Dakota to South Carolina, Seattle to Baltimore. For about half of the shooters it was their first time visiting New York, so it was cool to see how they interpreted the city. I've included a selection of shots from the day. Photo credits from top to bottom are as follows: Lori Gallagher, Cedar Crest College (Allentown, PA); Whitney Little, University of Washington; Caitlin Musick, Indiana Northwest University (Gary, IN); Brian O'Shaughnessy, Truman State University (Kirksville, MO); Chris Henry, University of Baltimore.