CB's Gallery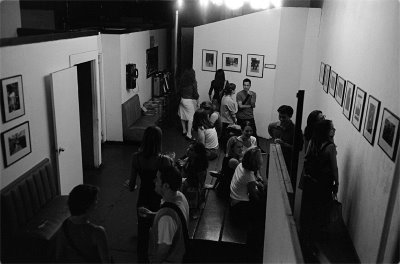 This picture was taken August 21, 2002 on the opening night of a group exhibition I was in at what used to be CB's Gallery, 313 Bowery, right next to CBGB's. About six months earlier I had submitted some of my work in the hopes of getting into one of the gallery's monthly group shows. I remember being in Kansas in July of that year when I got the call saying I had been chosen to participate in a show that was going to be called "Common Bonds." So once I got back to New York I went into CB's Gallery to measure and photograph the walls that I would be using (essential tasks when planning an exhibition). The opening on August 21st worked out perfectly, because the very next morning I had scheduled to fly back to Wichita to attend my 10-year high school reunion (which I had organized).
Details have gotten a little fuzzy since then. All I know is that I had 21 prints total on display. Eight of those were 16x20s and were displayed at the front of the gallery. Hanging the 16x20s was extremely tense because it involved a rickety two-ladder balancing act above a stairwell. My high school friend James Nguyen, who is about 50 pounds lighter than I am, helped me with this. I was pretty proud of how it turned out. But the 13 prints on the back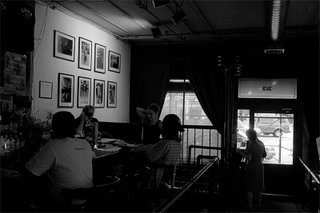 walls weren't initially supposed to be that spread out. Originally, I was only supposed to get the very back wall (the one with the angled top). But on the day when all the artists were supposed to show up and hang their work, the large wall on the right was unclaimed. Apparently the person the gallery director had chosen for that wall hadn't even replied to her phone calls. So she was more than happy to give me the extra space. And am I glad because I think I had some horrible plan to try a 3x5x3 cluttered mess with 11 prints. Needless to say, everything worked out much better using two walls. The two prints on the far left were total afterthoughts that I think I hung fifteen minutes before the opening. One was an older print made for a different show and the other was an Epson print I did and threw into a frame.
I have fond memories of that night (here's a brief
slide show
, click each image to advance). Every once in a while I'll see somebody walking on the street that I remember from the opening, somebody who had just come in off the street. I always cite that experience as being one of my earliest successes in New York. In recent years I might even dare say there's perhaps a whiff of prestige having been affiliated with the gallery before CBGB's closed down (one of
my pictures
from the show was actually taken inside CBGB's). CB's Gallery recently reopened as an outpost of the
Morrison Hotel Gallery
. Below is a picture from the most recent opening, last month, featuring the rock photography of
Bob Gruen
. The place has been entirely gutted, so it was a big surprise to see how cavernous the space really is. I highly recommend going in to see Gruen's photos. So many of them have been etched into my brain for as long as I can remember. In an era when everyone's bemoaning the loss of how things used to be, complaining about the upscale John Varvatos store coming in and taking over the CBGB's space, it's been the gallery next door that I've kept my eye on. Walking into the Morrison Hotel Gallery and feeling the abundance and prominence of the photography, I definitely know at least
that
space got into the right hands. (photograph below by Rick Edwards)