Ryan Hilke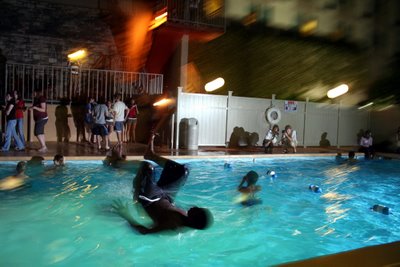 I want to give a shout out to an amazing young photographer I had the privilege of working with last month at the Flint Hills Publications Workshop in Manhattan, Kansas. The photographer, Ryan Hilke, is a senior at Liberty High School in Liberty, Missouri, which is just northeast of Kansas City. First, however, a few words about the workshop.
The workshop has taken place on the campus of Kansas State University every summer since the late 1950s. It's an intensive five-day workshop that attracts about 300 high schoolers from about 15 states. The kids who attend the workshop are editors, reporters, photographers and designers for their respective high school newspapers and yearbooks. Each year there are about 30 students who enroll in the photography sequence of the workshop. I have been a photography instructor at this workshop since 1998, along with a rotating cast of usually two other instructors. While it is a grueling week of 13-hour days in the brutal, Kansas-in-July heat, it nevertheless is always the highlight of my summer.
It's a unique workshop in the sense that very little of it takes place in the classroom–we don't just sit around in the AC and talk about philosotography. Nope, these photographers are responsible for documenting the entire week 24/7 and for providing photographs for the workshop's three main publications. First, there's the Kedzie Krier Newspaper, which is a 16-page broadsheet that is printed on the last day of the workshop for students to read and take home with them. The Krier is like any regular newspaper with news stories, features, Op/Ed columns and even classified ads. Then there's the Wildcat Yearbook, which has more of a keepsake feel to it, like any yearbook. It's the publication that has all the group shots in it, and each spread is designed around the overall theme of the workshop (this year's was something semi-corny like "What's In It For U?"). The Wildcat ships out to all the attendees a few months after the workshop is over. Finally, there's the New Media class that puts out a DVD with a ton of videos and other interactive goodies that students have come up with. One aspect of this DVD is the end-of-workshop slideshow that is a showcase for all the photographers' pictures. This DVD is bundled inside and shipped along with the Wildcat.
The Krier and Wildcat both require that the photographers get names for their subjects and write detailed captions. Actually, we demand this for every picture in each photographer's "selects" folder. And I can't tell you how many times we stressed this point, daily, about getting the names of subjects. We'd give little prizes to the photographers if we saw them carrying a notebook around and getting names of people
who they weren't already friends with from school.
But getting caption information is a new idea for most of these kids and their excuses for not getting names ranged from "I forgot," to "I didn't want to bother them," to "Can't I just go out and get it later?"
Toward the end of the week we had to start thinking about giving out awards to the photographers. But it was kind of an "off" year, there weren't really any photographers that totally stood out or showed much improvement throughout the week. And we were plagued by these captionless photos. There was of course one exception to this and that's Ryan Hilke. When crunch time came on deadline night for the publications, Ryan's pictures were all captioned and ready to go. And they were great pictures. Some kids could barely muster five usable images from the entire week. But by Wednesday, Ryan had about 20 selects in his folder. Early in the week we had given the kids a little spiel about how, when photographing in dark situations in the same room as 30 other photographers using flashes, to try and capture other people's flashes using long exposures. Ryan took this advice and totally ran with it. From what I recall he had several pictures using this technique that were totally amazing. These two pics are his two favorite images from the week. I applaud Ryan for turning off his flash and for his experimentation. He was a natural choice for an award we like to give each year (but never refer to as) "Best Photographer of the Workshop." So we created a one-time award specifically for him with the most academic-sounding title we could come up with, "The Ryan Hilke Award for Excellence in Photojournalism." He was super stoked when we presented the award to him, I think mainly because he wasn't expecting it. But we'd like to wish him the best of luck this year at Liberty and to urge him to continue with his photography.