Vivian Cherry's "Helluva Town"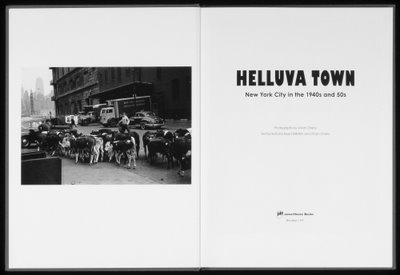 It's not very often that I open a book for the very first time, take a look at one of its spreads, and have an instinct to immediately buy it. That happened to me this week looking at Vivian Cherry's book "Helluva Town-New York City in the 1940s and 50s." I didn't have much cash on me at the moment, and the bookstore I was in is notorious for its inflated pricing. But this is a book I definitely want to add to my library soon.
I did, however, spend several minutes taking in all the images, trying to remember why her name sounded so familiar. As I later found out, it was one of the nudes from her tattoo series in the 90s that, once I saw it on her
website
, triggered my memory. It was at an exhibition titled "Where Do We Go From Here?" showcasing the work of members of the Photo League at the New York Public Library early last year. A lot about the Photo League and the exhibition can be read
here
.
The nude photo to which I am referrring can be seen
here
, but it's very different from her work in "Helluva Town" (which can be previewed
here
).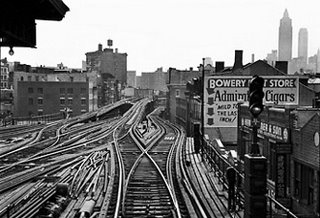 Indeed, in the book it was her photographs from the last years of the Third Avenue El that stopped me dead in my tracks, so to speak. She has one picture taken from the train as it's going up Bowery, of a man standing on the platform at Canal, with the Manhattan Bridge entrance framed perfectly in the background, that is phenomenal (that I cannot find anywhere online).
The book does not need to be subtitled "New York City in the 1940s and 50s" in order for me to spot it from a mile away. Instantly, any black and white picture from this period pops out at me. I had an unusual thought looking at the book. I thought to myself "What if what I am photographing now--what I think will be worth looking at in 50 years--doesn't turn out to be that interesting?" Cherry's shots of children, in particular, made me think this. There's a real grit to the way kids used to grow up, before television, before video games, that I think photographs well (or
ages
well, I should say). I don't know why, but I find that children these days aren't very interesting, visually. All I know is that looking at the book made me wish I'd been in NYC when the Third Avenue El was still intact.
Lastly, on a totally different side note, I was taking a closer look at the image that's included in the opening spread (of the cows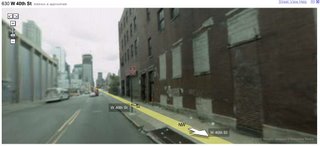 on the sidewalk, above) and I recognized something familiar. If you look closely there's a tower in the backround on the far left side, it looks like a bell tower outside a church. Somewhere I knew I had just seen that tower. Moments later I realized I had just walked past it during an assignment I had done. It's one of two towers that flank the Manhattan entrance/exit of the Lincoln Tunnel, on West 39th. My assignment was to photograph the empty lot north of the Jacob Javits Center between 39th and 40th. My picture can be seen
here
. In the foreground of my picture are some bricks and rubble, the remnants of the demoltion of the building in the Google Street View image (at left). In Cherry's photo up top, it's the building with the trucks backed up to it. In other words, for my photo I had to stand in Cherry's field of view half a century after she took her photo.