The Saya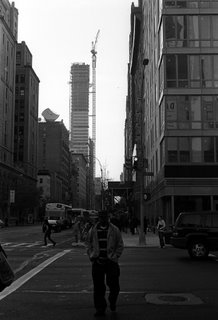 Some time about a month ago I was walking west on 23rd Street when I couldn't help but notice an extremely tall and narrow building under construction off in the distance. It was one of those increasingly common moments where I thought to myself "Gee Cary, you stay away from a certain part of town too long and next time you're back there's a huge building already topped out." As I got closer I could see the building was going up right where Madison Avenue begins at 23rd. It's basically going up on the southeast corner of Madison Square Park. It was not difficult to find information on the project. By simply googling "high rise" "23rd" and "Madison Square Park" I learned that the building is called The Saya and will have the notable address of One Madison Avenue. I didn't really give it any more thought until about a week later, as I was flying back into New York from Kansas. Coming up the East River en route to La Guardia Airport, I was looking out the window on the left side of the plane watching the numbered streets of Manhattan drift by below me. My eye immediately latched onto The Saya, and it was somewhat startling to make the connection between the building I was looking at from the air and the building I had seen on street level a week earlier.
Not surprisingly, I am pretty late to discover such real estate happenings (unless they're right in the immediate vicinity of where I've lived the past 8 years, the swath of Manhattan that I like to call
NoLiHoSoLo
). Curbed, however, is all over this kind of stuff. From Curbed I was able to find out a lot about the
building itself
, as well as a condo that recently had its price lowered by over $900,000 due to its uptown view
being blocked
by The Saya. And over at
skyscraperpage.com
I found a ton of great pics, as well as some interesting renderings of the building, one of which is at left.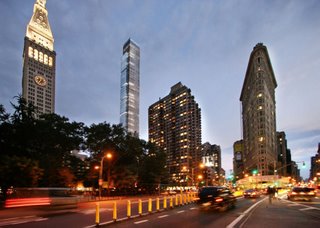 Okay so whatever, a big high rise is going up on 23rd Street. I'll never live in it, so that was pretty much the end of my interest. Until, about
another
week later when I was walking down Broadway near 13th, through a street fair, when I turned back to look uptown. That's when I saw The Saya totally jutting up right smack dab in between the Empire State Building and the old Metropolitan Life Tower (which also overlooks Madison Square Park, just a stone's throw from The Saya). Click
here
for an older post concerning those two skyscrapers. Below are two photos that show the uptown view before (left) and during (right) construction of the building. The photo on the right was with my cell phone, so please excuse the quality. But it definitely gives you a sense of the skyline disruption. I've always known that New York City is pretty much the only city in America that continually has buildings under construction that are taller than the tallest buildings in 90 percent of all other American cities. For example, the tallest building is Wichita is about 26 stories tall and wouldn't make a dent on NYC's skyline. On the other hand, The Saya, at about 50 stories tall, makes a pretty significant poke in the eye of lower midtown Manhattan, no matter from which angle you view it (and I didn't even notice it until it was 90 percent topped out). The Saya is going to be about as tall as the old Met Life Tower, which only 100 years ago was the tallest building in the world (from 1909-1913).